This ad features the last year of the old style quad round headlights.  It also includes a photo caption that says, "Bill Mozer with his new Volvo. And his family with his old ones."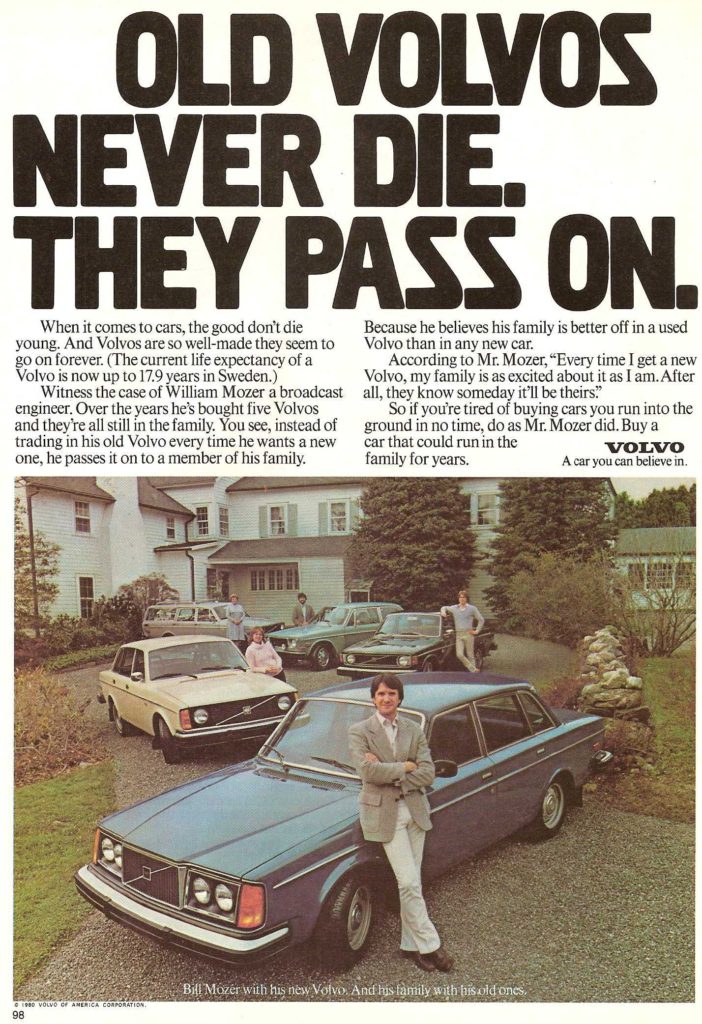 Old Volvos Never Die. They Pass On.
When it comes to cars, the good don't die young. And Volvos are so well-made they seem to go on forever. (The current life expectancy of a Volvo is now up to 17.9 years in Sweden.)
Witness the case of William Mozer a broadcast engineer. Over the years he's bought five Volvos and they're all still in the family. You see, instead of trading in his old Volvo every time he wants a new one, he passes it on to a member of his family.

Because he believes his family is better off in a used Volvo than in any new car.
According to Mr. Mozer, "Every time I get a new Volvo, my family is as excited about it as I am. After all, they know someday it'll be theirs!'
So if you're tired of buying cars you run into the ground in no time, do as Mr. Mozer did. Buy a car that could run in the family for years.
Volvo
A car you can believe in.
©1980 Volvo Corporation of America
1980 Volvo 240 Ad: Old Volvos Never Die. They Pass On.