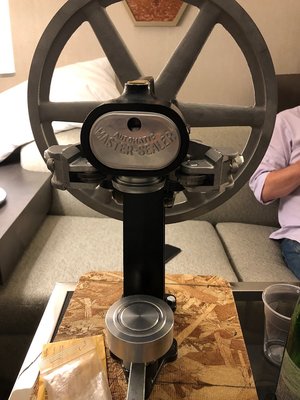 For many years I have wanted to be able to can my homebrewed beer and now I "can".
A few months ago I received a 225 series All-American Can Sealer as a gift. My model seals 12oz or 16oz aluminum cans. I have tried canning a few times so far, but I am definitely still learning how to use it.The Sealer did not come with much in the way of instructions, but I have been able to find a variety articles and videos with information about how to use the sealer and also how to take care of it.
I need to work on maintaining carbonation in my cans. I believe that my primary issue at this point is that my kegged, carbonated beer is not cold enough going in to the cans. Because of this, I am getting excessive foaming as I fill the cans via my Last Straw Bottle Filler and that foaming is causing me to lose carbonation. Next up, I am going to try filling cans with un-carbonated beer and priming sugar, and then let it carbonate in the cans, to see if this resolves the issue.
[Update – can-conditioning worked fine. Also, chilling the cans is helpful].
All-American Sealer Resources
Where to Buy Aluminum Cans
All-American Aluminum Can Sealer for Beer