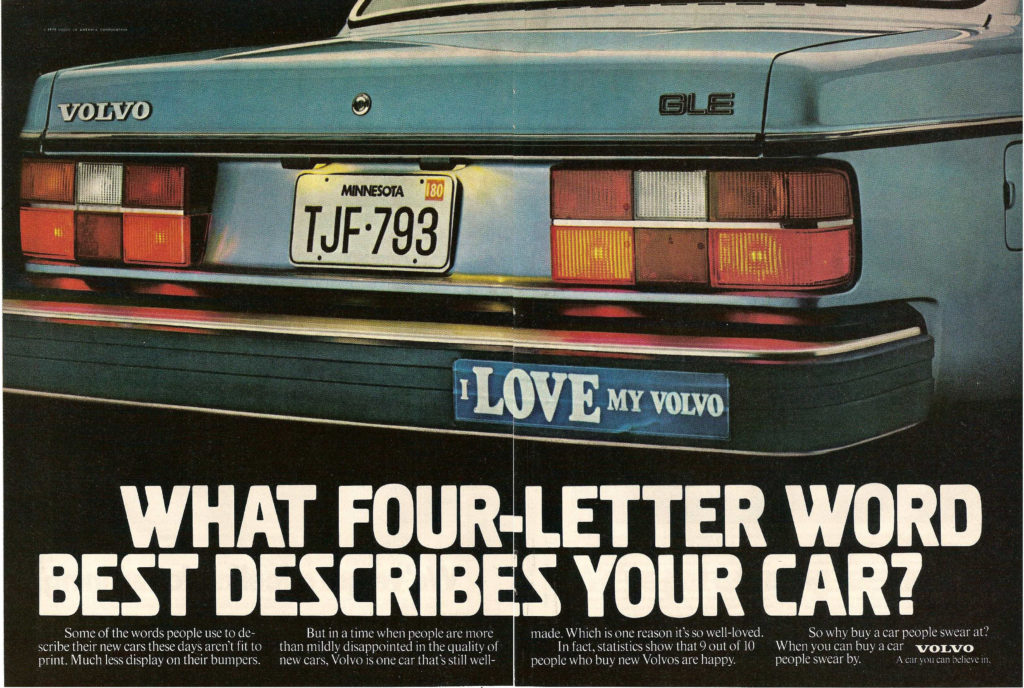 The ad features a beautiful photo of a carlsbad yellow 240 sedan with quad-round headlights.
The text of this ad states:
LOVE LETTERS TO A CAR COMPANY?
You'd probably never dream of writing a love letter to the company that built your car. Yet at Volvo, we get them all the time.
Maybe because 9 out of 10 people who buy new Volvos are happy.
But some people who own Volvos aren't merely happy. They're absolutely ecstatic.
People like Ory Jacobson of Ocean Shores, Washington: "Now that it's at the 200,000 mile mark, I figure it has another 200,000 more miles in it…you just don't trade in members of your family."
Mary Howard of West Trenton, New Jersey: "This is the first time in
my life that I still had a good car after it was paid for."
Or, The Reverend Ernest G. Olsen of Westfield, New Jersey who, after 225,000 trouble-free miles, says simply: "Love that Volvo."
If you can't think of any love stories to write about your present car, maybe your next car should be a Volvo.
After all, why buy a car you might regret? When with a Volvo, you'll probably end up never having to say you're sorry.
VOLVO
A car you can believe in.
©1979 Volvo of America Corporation
1979 Volvo 240 Ad: Love Letters to a Car Company?