About six weeks ago, I was reading the MacRumors website and found an article about the Apple recall of the first generation Nanos. The article explained that Apple was recalling first generation Nanos due to a battery issue. My wife and I each had Nanos a few years back, but I was initially unsure if they were first generation and eligible for the recall.
I started digging through the house and managed to unearth both Nanos. My nano was the black 4GB model and my wife's was the white 2GB one. I recharged the two units and then tried them out to see if they still worked. iTunes could see the black one when I plugged it in, but the white one failed to load and remained non-responsive. Not real sure why the white one would not load, but as there is a recall on the early Nanos it is possible that the problem is tied to the same battery issue that prompted the recall.
The first generation Nano looks like this: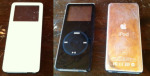 Next, I went to the Apple iPod nano (1st generation) Replacement Program website and checked our Nano serial numbers (written on the Nano's shniy metal back in an impossibly small font) to see if these two units were eligible for the recall. Happily I found that both Nanos were eligible and I put in my recall requests.
Apple sent me two emails with links that I could go to to see my Repair Status (well, recall status.) About a week later, I received two Fedex prepaid boxes to ship the Nanos back to Apple. I peeled the outer shipping label off of each box and found my return receipt on the back of the label. I carefully packaged up each of my Nanos into the foam cradle provided and dropped them off at a Fedex location for return shipping.
I have been watching the repair status page for about a month and as of a couple of days ago, Apple reported that they had shipped a replacement for the black 4GB Nano.  Over the last couple of weeks, I have seen a couple of Nano articles on MacRumors talking about just what model the replacement unit will actually be.  Initially I was just expecting to get another first generation Nano, now I am not sure and looking forward to the possibilities of something newer.
The white 2GB Nano repair status is still listed as pending.
[Update: My first replacement Nano has arrived!]
1st Gen iPod Nano Recall Process