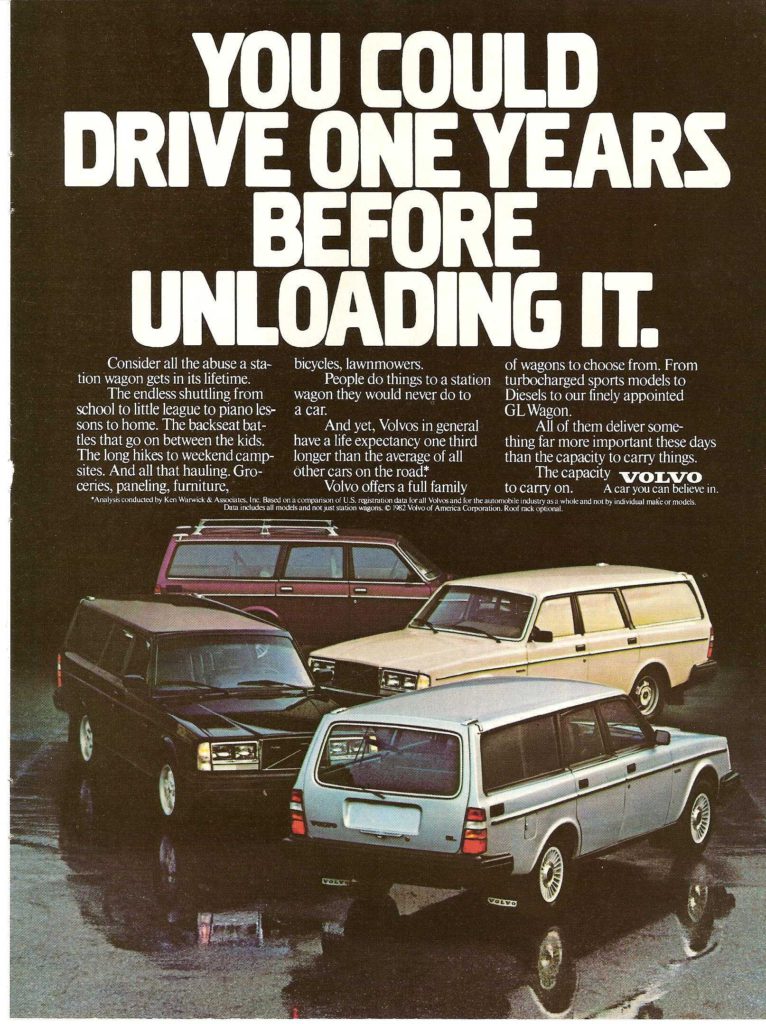 This ad features a great-looking 1982 Volvo Wagons. It also shows the three rim styles that were available at the time: the standard steel rims (off-white car), the GL style rims (light-blue car) and the 5-spoke Virgo style rims (black car).
The text of the ad states:
YOU COULD DRIVE ONE YEARS BEFORE UNLOADING IT
Consider all the abuse a station wagon gets in its lifetime.
The endless shuttling from school to little league to piano lessons to home. The backseat battles that go on between the kids. The long hikes to weekend campsites. And all that hauling. Groceries, paneling, furniture, bicycles, lawnmowers.
People do things to a station wagon they would never do to a car.
And yet, Volvos in general have a life expectancy one third longer than the average of all Other cars on the road.*
Volvo offers a full family of wagons to choose from. From turbocharged sports models to Diesels to our finely appointed GL Wagon.
All of them deliver something far more important these days than the capacity to carry things.
The capacity to carry on.
VOLVO
A car you can believe in.
*Analysis conducted by Ken Warwick & Associates, Inc. Based on a comparison of U.S. registration data for all Volvos and for the automobile industry as a whole and not by individual make or models. Data includes all models and not just station wagons.
©1982 Volvo of America Corporation. Roof rack optional.
1982 Volvo 240 Ad: You Could Drive One Years Before Unloading It