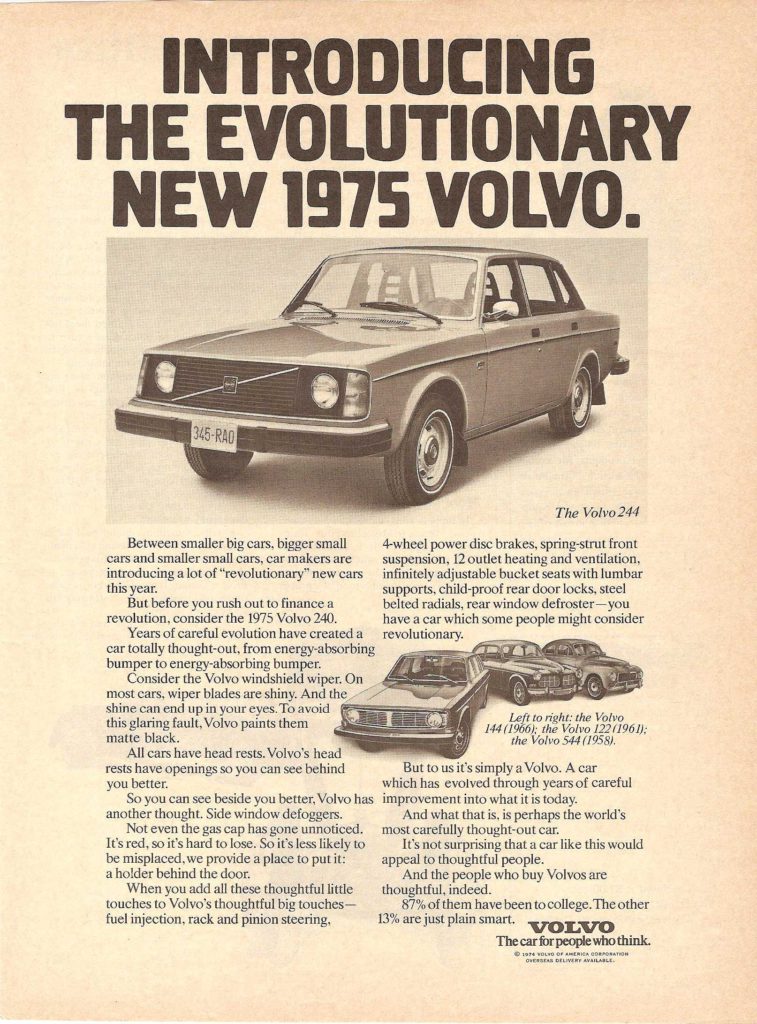 The text of this ad states:
INTRODUCING THE EVOLUTIONARY NEW 1975 VOLVO.
Between smaller big cars, bigger small cars and smaller small cars, car makers are introducing a lot of "revolutionary" new cars this year.
But before you rush out to finance a revolution, consider the 1975 Volvo 240.
Years of careful evolution have created a car totally thought-out, from energy-absorbing bumper to energy-absorbing bumper.
Consider the Volvo windshield wiper. On most cars, wiper blades are shiny. And the
shine can end up in your eyes. To avoid this glaring fault, Volvo paints them
matte black.
All cars have head rests. Volvo's head rests have openings so you can see behind
you better.
So you can see beside you better, Volvo has another thought. Side window defoggers.
Not even the gas cap has gone unnoticed. It's red, so it's hard to lose. So it's less likely to be misplaced, we provide a place to put it: a holder behind the door.
When you add all these thoughtful little touches to Volvo's thoughtful big touches—
fuel injection, rack and pinion steering, 4-wheel power disc brakes, spring-strut front suspension, 12 outlet heating and ventilation, infinitely adjustable bucket seats with lumbar supports, child-proof rear door locks, steel belted radials, rear window defroster—you have a car which some people might consider revolutionary.
But to us it's simply a Volvo. A car which has evolved through years of careful
improvement into what it is today.
And what that is, is perhaps the world's most carefully thought-out car.
It's not surprising that a car like this would appeal to thoughtful people.
And the people who buy Volvos are thoughtful, indeed.
87% of them have been to college.The other 13% are just plain smart.
VOLVO
The car for people who think.
©1974 Volvo of America Corporation. Overseas Delivery Available.
1975 Volvo 240 Ad: Introducing the Evolutionary New 1975 Volvo