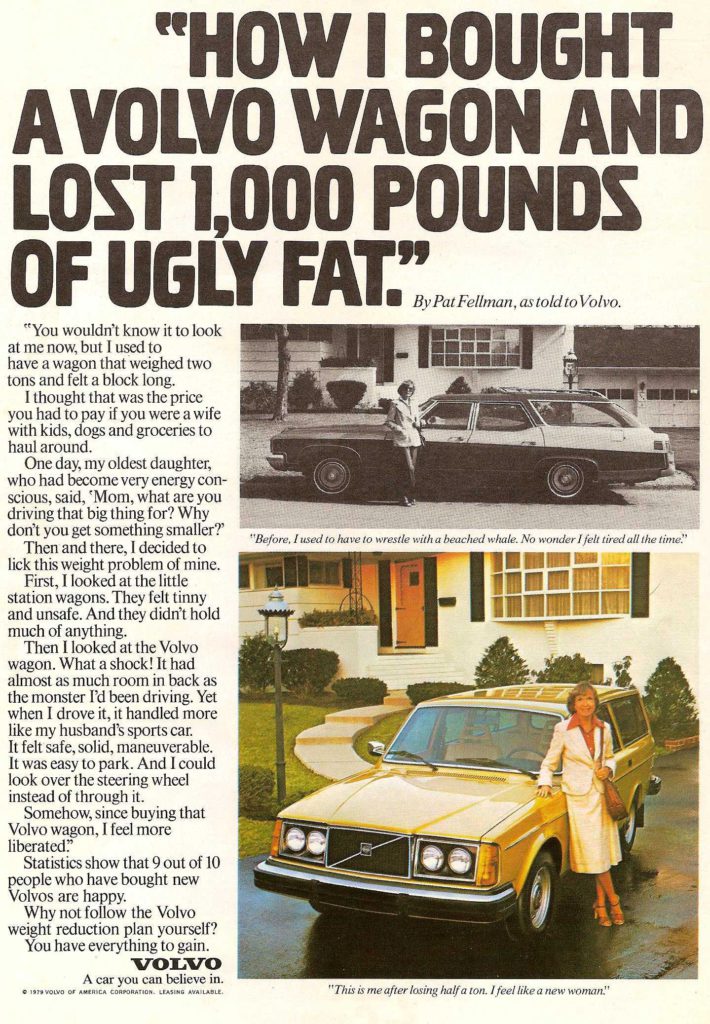 The text of this ad states:
"HOW I BOUGHT A VOLVO WAGON AND LOST 1,000 POUNDS OF UGLY FAT."
By Pat Fellman, as told to Volvo.
You wouldn't know it to look at me now, but I used to have a wagon that weighed two tons and felt a block long.
I thought that was the price you had to pay if you were a wife with kids, dogs and groceries to haul around.
One day, my oldest daughter, who had become very energy con-scious, said,'Mom, what are you driving that big thing for? Why don't you get something smaller?'
Then and there, I decided to lick this weight problem of mine.
First, I looked at the little station wagons. They felt tinny and unsafe. And they didn't hold much of anything.
Then I looked at the Volvo wagon. What a shock! It had almost as much room in back as
the monster I'd been driving. Yet when I drove it, it handled more like my husband's sports car. It felt safe, solid, maneuverable. It was easy to park. And I could
look over the steering wheel instead of through it.
Somehow, since buying that Volvo wagon, I feel more liberated."
Statistics show that 9 out of 10 people who have bought new Volvos are happy.
Why not follow the Volvo weight reduction plan yourself?
You have everything to gain.
VOLVO
A car you can believe in.
©1979 Volvo of America Corporation. Leasing Available.
1979 Volvo 240 Ad: Lost 1,000 Pounds of Ugly Fat